Stage name: Ailee (에일리)
Real name: Lee Ye Jin (이예진)
Birthdate: May 30, 1989
Birthplace: New Jersey, USA
Occupations: Singer, actress
Labels: YMC Entertainment
Pre-debut
Before debut, Ailee had a YouTube channel named aileemusic. She was also popular in New Jersey performing with Johnny Phlo who is also in Korea and other names such as Decipher, Brian Joo, and Jay Park. Ailee has also performed in singing competitions like NY Kollaboration 2006 winning Best Vocals.
During her trainee days under YMC Entertainment, she was featured in Wheesung's "They Are Coming" song released on October 9, 2011.
Ailee also featured in Decipher's song "Catch Me If You Can".
On September 13, 2011 Ailee with Wheesung held a performance on the MBC's Chuseok special episode of "Singer and Trainee". At the beginning of "My Boo," Ailee gave a nice rap with an easy going expression. Following Ailee's solo performance of "Halo" by Beyonce, judge BMK expressed, "Wherever she goes, she has the potential to be a big star. She definitely has the voice." After the judges had graded everyone, Ailee won first place.
On January 30, 2012 Ailee made her acting debut in Dream High Season 2 as Ailee, one of the member of the K-pop group HerShe.

2012 : Debut
On February 6, 2012, the music video teaser for Ailee's debut song, Heaven, was released.
Ailee released the song and the music video for her song, "Heaven", on February 9, 2012. The music video for "Heaven" featured Beast's Gi Kwang.
Ailee made her debut stage performance of "Heaven" on M.net M! Countdown on February 9, 2012 and on SBS Inkigayo on February 11.
On February 22, 2012 she released her OST song "Superstar" for KBS's Dream High 2 together with Hyorin & Ji Yeon.
On March 16, Ailee reached the #2 position on KBS Music Bank K-Chart (Losing to BIGBANG), a significant accomplishment for a rookie.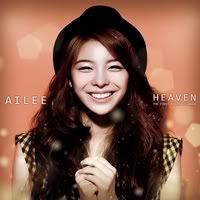 Tracklist
01 Heaven
02 Heaven (Inst.)
download
[MV] Ailee - Heaven (1080p)
download
[MV] Ailee - Heaven (English subs + Romanization + Hangul)
download
[MV] Wheesung feat. Ailee - The Guys Are Coming (1080p)
download
Johnnyphlo ft. Ailee - White Lie (Baby Please) (720p)
download
| Performances |
Singer and Trainee - My Boo (with Wheesung)
download
Singer and Trainee - Halo -
download
M Countdown - Heaven
download
Music Core - Heaven
encode:
tellu
download
Music Bank - Secret Love (B.A.P ft. Ailee)
download
Ailee - Lonely Lover @Immortal Song 2
download
Ailee & Baechigi - Empire State of Mind @Beautiful Concert
download
HerShe (T-ara Jiyeon, Sistar Hyorin, Ailee) - Superstar [Dream High 2 Ost. Part 4]


HerShe (T-ara Jiyeon, Sistar Hyorin, Ailee) - Superstar [Dream High 2 Ost. Part 4]
Release Date: 21.02.2012
Genre: Pop, Dance
Bitrate: 320kbps

Track List:
01. Superstar
MediaFire
idws